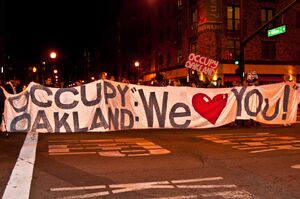 On Feb 14, 2012 (#F14) Occupy Oakland held a Valentine's day love march through oakland.
A gentleman who made a video from his balcony of protesters being kettled in this very park on Jan 28, 2012 (#J28) came out to wave hello and was cheered loudly.
Police Interaction
Edit
Demonstrators marched down Telegraph / Broadway to the Oakland Police Department headquarters, were met in high spirits by officers in full riot gear, some of whom followed them back to Henry J. Kaiser memorial park at 19th and Telegraph.
Dance Party
Edit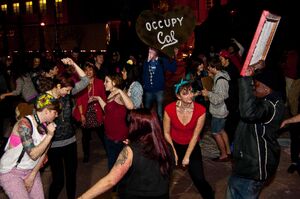 After the march's return to Herny J. Kaiser memorial park, a rally was held with chants from the march, spoken word, and music until around 9pm when organizers decided to be courteous of the neighbors. OPD officers opted not to stay for the party.
Noone was arrested, noone was hurt, and no chemical weapons were dispersed. Everyone had a good time.
Ad blocker interference detected!
Wikia is a free-to-use site that makes money from advertising. We have a modified experience for viewers using ad blockers

Wikia is not accessible if you've made further modifications. Remove the custom ad blocker rule(s) and the page will load as expected.