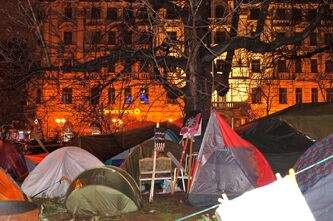 The first big protest manifestation in Frankfurt was organized by Attac for the big international Occupy/Indignados protest day Oct. 15th 2011, but a group named "Occupy Frankfurt" took also part as co-organizer. This group took over the initiative for many further protest demonstrations since they built a "Yes we camp"-camp immediately after the Oct. 15th protest march. And this camp in front of the European Central Bank (the €uro FED!) persisted more than three months. It wasn't evicted - the camps in Berlin were evicted. The Occupy Frankfurt group became the most German of all since it decided soon to found a registered association, an "eingetragener Verein"=e.V. , the typical German type of private organization. A specialty of the camp are its "folks' university" seminars about several topics.
publications
Edit
initiatives
Edit
other stuff
Edit
Ad blocker interference detected!
Wikia is a free-to-use site that makes money from advertising. We have a modified experience for viewers using ad blockers

Wikia is not accessible if you've made further modifications. Remove the custom ad blocker rule(s) and the page will load as expected.